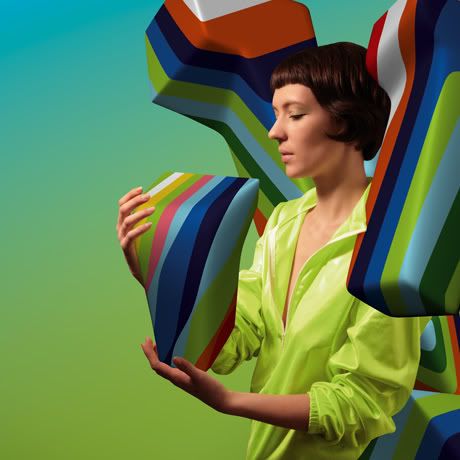 Can you tell us about your childhood, your youth and how this time of your life influenced you and your work?
When I was adolescent, I wasn't in the local norm, especially in the place where I grew up: Le Jura, it was more playing rugby, football, drinking, riding motorcycles, wearing Doc Martens, light blue jeans and bomber jackets. I let imagine the life of an overexcited tagger in this context, I wasn't feeling so confortable. My strong memories are linked to graffiti, that was my youth's freedom and lightheartedness. I spend so much time on railways, industrial waste lands to find walls to paint on, those places, the equipment, all the details of this discipline and also many feelings left me a very strong memory. I still do graffiti, less often than before, but all this universe doesn't leave me, today it's a working topic, I peel my vision, it's really interesting.
On the professional side, it's funny but when I think of it, I was customizing my audio tapes, tagging my clothes and my shoes, basically all my stuffs… well now it's still the same thing today with album artworks, clothe collections etc, it's just got to an industrial stage.
What was your first job (in relation with art or not)?
First job, I was 16, was selling hot chichis (ndlr: long doughnuts) on the beach for holidays, but it was super-boring, so I was shouting non-sense and after a while I got really successful. No, but more seriously I promised myself I would never waste a summer working at the factory, I started very young with commissioned works, commissioned graffitis for shops, clubs and events, I wasn't doing that bad.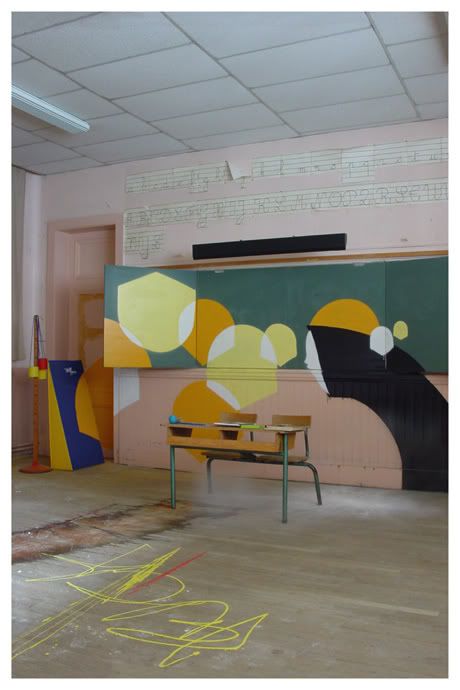 You come from Jura (countryside in eastern France) but you've been living in Paris for many years. How has the capital influenced your work? What do you think of the evolution of Paris those last years concerning street art?
I know little about Paris and it's difficult to assert a love for a city for which one has only few memories, I live there for only 7 years, but made there some very good friends and the cultural richness is incredible there. I think that my friends and my experiences in Paris also influence my work and my universe here.
Regarding street art, it's in my opinion a much too global term to describe a phenomenon, rather than a school or a movement, everyone gave it a try with ones personal style, it was a little bit like a trend, like there have been trends of styles in graffiti. I don't have the feeling that it does challenge the population anymore, maybe something new will come in the streets, tagtonik perhaps?
You share your studio with your friend, artist KRSN. How did you know each other's and do you still work together?
Krsn is in my top best friends, very very well placed, and he's also a great artist, always surprising and sincere, I don't get tired of watching his images, he kills it!
It's been a few months we haven't worked together, we've both been very busy each one on our side, but we'll collaborate soon, I can't wait for that, it's always very cool to compose together, very instinctive, each time I have the feeling we're doing telepathic and it works very well!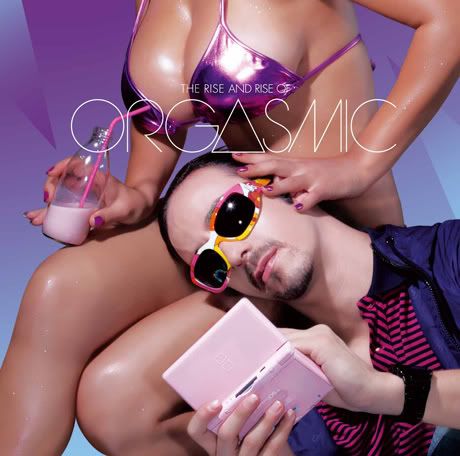 What are you usually listening in your workshop?
Classical music and I wonder naked in a mauve silk dressing gown. I'm very very classy concerning music.
Music plays an important part in your work. Have any artists or albums influenced some of your artwork?
There always was music in my life, it's quite a funny thing actually, but when I was small, I could hear people singing by the window, in my mum's office who is a speech therapist, I now live close to a music academy, I also hear people singing, and my atelier is located right next to a music school… it just never stops. Then I don't know if music influences my work, maybe it gives oneself an attitude, or it allows you to do more crazy things, but I don't believe it plays that much on your visual directions.
On the other hand, the artists you meet and their universe make you to evolve, it's in the effort of adaptation that you discover directions you would have never even considered, but it's actually not only true with music, all the projects are more or less like that. I think that a similar question would much more interesting: the importance and the influence of the image on a musician.
Could you please describe us your typical day at work?
I never stop working.
Apart from art/graphic design, what are the other things you enjoy doing when you have some free time left?
Spend some time with my wonderful family.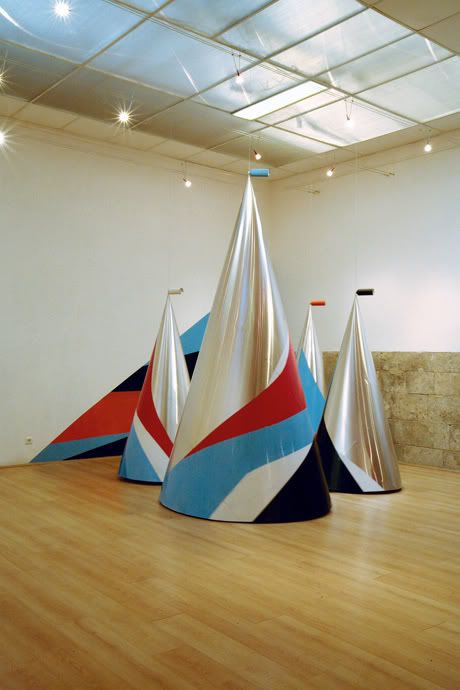 What was the last book you read?
I usually read several books at the same time, there was a monograph of Charlotte Perriand and another one of Tallon, a few repertories of design and I lately started reading again an old book from Tschichold from my library that had irritated me, to check that my vision of typography had evolved a minimum. I've also just started a pretty big book about Italian Renaissance, with the same aim.
Who are the French and international artists who currently inspire you?
There will always be the great classic designers and graphic artists; I also find the work of Tobias Rehberger really interesting, even if I've been interested in his production for a long time. Swiss artists also make cool things, Fleury, Decrauzat and also a French woman, Delphine Coindet, who makes really beautiful things.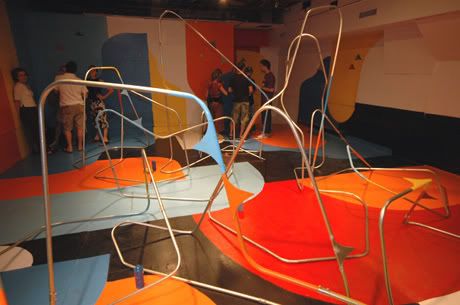 Regarding your new exhibition Hooked which took place in Montreal this summer, could you give us more information about the contents, on what you focused and how comes you choose Canada? Do you have other exhibitions planned from this side of the Atlantic?
"In the mess over there, behind the fence, stuck to the walls, after the carpark, under the bridge, below the road, in the grass, between remains and trashes, metal sheets and cables, right in the middle of the brambles, behind that wall, in the color and the action; it's there, at age 14, that I got hooked on graffiti. That's a little bit the key sentence of the exhibition, I try to symbolize the relationship between danger and game in a space, by composing the room with vivid colors and playful forms and an installation made of iron bars equipped with sharp spades. It's a little bit like a hyper funny solid mass of brambles. Dangerous places are an undeniable component of doing graffiti, it forms part of the ritual, and it's even what's exciting for some taggers. Moreover the gallery is called Off The Hook, and that was an inevitable coincidence, just like being called Akroe ; Hooked.
Apart from that, I haven't planned anything else here, but I have a great desire to return to Montreal, I made great friends.
Did you know Canada already? Apart from the show, what are your plans here?
No, I didn't know Canada, it's really cool here, I had so much fun, people are very welcoming and party, party, party all the time!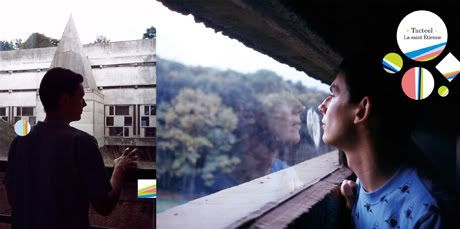 With your busy schedule between clients and shows, do you still have time to create artwork in the street?
I'm organized…
Which currently takes more of your time: commercial artwork or personal artistic creation? How do you manage to make the balance between both worlds? Do you think one of them influences the other?
Time spent on personal artistic creation still depends a lot on client projects. It's also thanks to the orders I get that I can sustain my activity of artist. It means lot of efforts on both sides, but I believe I'm not doing that bad with this organization for the moment. And yes, it's undeniable that my researching work has an influence on my commercial work, more and more, and I'm very happy about that, I think the opposite would be less interesting.
To celebrate the launch of The Simpsons – The Movie, the Parisian store Colette asked some artists, including you, to customize a Bart vinyl toy. What is your opinion about the designer toy world, which is a movement that has been growing extremely fast in France for the last two years? Could you plan to release a 3D creation out of vinyl?
No, no, no, toys are a pain in the arse, I love the idea to create series of cool and crazy things, but I can't get used to the models, formats and plastics used for the moment. I customized the Bart Qee for Colette because people used to compare me to him when I was younger, with his attitude and his face, I found that funny. I created something respecting the spirit of The Simpsons and giving the totality of the selling price to the Mc Donald's foundation. But I don't think I'll be doing that anytime soon, in general I tend to oversize…
You work with Sixpack France since the very beginning of the brand. Can you tell us the origin of this adventure and the on-going projects that you have with them (new Akroe mini-collection)?
They are friends for life; there will always be many new mini-collections coming!
What are your favorite streetwear brands and the ones that influence you?
Sixpack, Rated Rookies and Freshjive, you know why!
Are you interested in sneakers? Do you own many pairs? What are your last pairs of sneakers you purchased and which are your "jewel" pairs?
Honestly, not really, but still I'm interested in the matter, I like to see the new tendencies, but I'm not an over-excited shopping addict nor am I a collector. For my clothes in general I'm always attracted by traditional, beautiful traditional well made clothes. Concerning shoes, I always enjoyed simple models, black and white. I own several pairs of the same model, all in a different wear conditions, I'm straight, I can't believe it.
On the other hand, I'm very attentive to the couture and haute couture, especially for women obviously, I am always amazed by the profusion, the creativity and the ease of fashion designers. Obviously I'm more receptive to more graphic collections and then I always admire the quality of the image of luxury brands, the concern and intelligence of the detail. So classy.
What can we expect from Akroe for the next months?
Two books, a second version of the Design&Designer book by Pyramyd and "Deadline" at the Lazy Dog, with a deadline for…
And finally an update of my website, I receive so many emails of people irritated because I don't do it, it's insane.