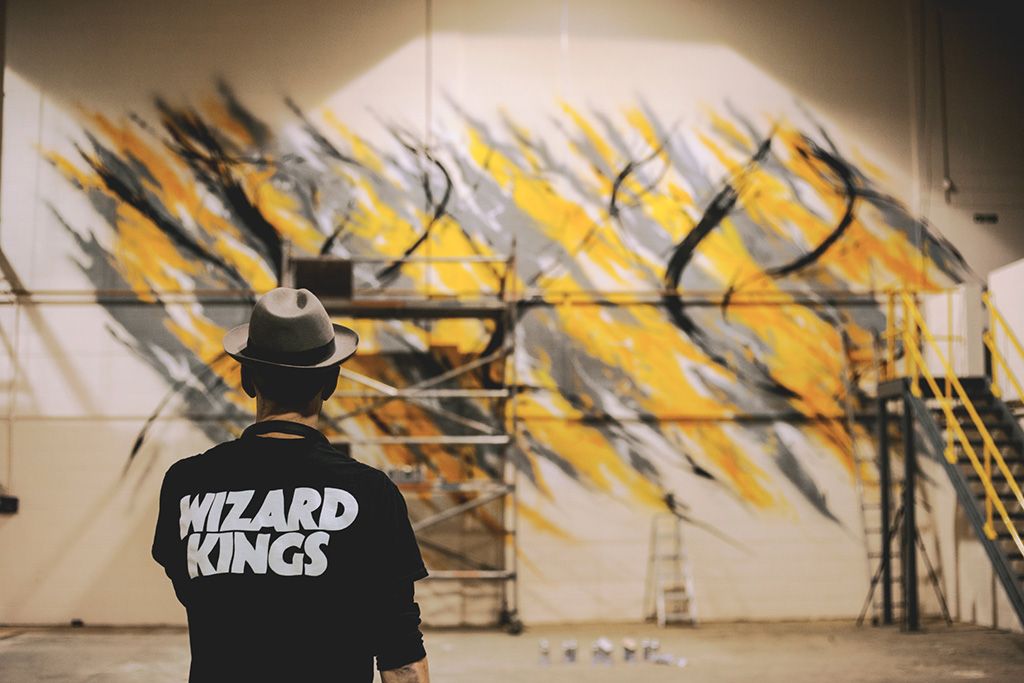 Guillotine a eu le plaisir de s'entretenir avec James Choules, plus connu sous le nom de sheOne, à l'occasion de la sortie, le mois prochain, de sa toute première monographie (disponible en pre-order ici). L'artiste britannique revient sur son passé à Londres dans les années 80 et nous parle de ses influences, son processus créatif et l'évolution permanente de son œuvre.
You started tagging in London in the mid-eighties. Can you tell us a bit more about that special time in your life?
It was a very exciting time to be a teenager, there was a new vibrance about culture particularly coming from America. Music videos were relatively new and with home VHS we were able to capture this and actually study the music, art and fashion. At the same time the idea of cut and paste music, where apparently unrelated genres were spliced together to form completely new types of DIY music, add this to the revolution in 'STYLE' publishing that was i-D and The Face magazine, and for the first time teenagers had access to a lot of information and ideas. Possibilities.
[ 4 ] 80's videos to watch
Buffalo Gals – Malcolm Mclaren & The Worlds famous Supreme Team
Rapture – Blondie
Bow Wow Wow – c30 c60 c90
Visage – Fade To Grey
Can you explain your creative process? Do you have a specific direction you take when creating?
I want to make something that nobody has ever seen before. I have developed a very personal aesthetic using spray paint, what i guess you would call a signature style, so the challenge I set myself now is how to present that it a fresh way. In the studio I have works on canvas, paper, objects in progress simultaneously and I am constantly photographing the process which then creates a new set of work in itself.
[ 4 ] words about process
Black
Coffee
Opera
Cigarettes
What influences your style of art?
For many years I thought i was just painting pictures, however I realised recently that I am actually trying to communicate an idea which over time has become a larger dialogue. Every time you make a new exhibition or set of works you are adding to this timeline that hopefully will make sense when viewed as a whole. Also you have to be comfortable with failure, if people don't respond to an idea that you thought was actually very strong then that in itself comes part of the learning curve. When I see art that i like, it is because it is speaking to a part of me, I am responding to something. I don't believe in influence as such, i think you just have an idea and look for the most effective way to relay that through what is ultimately just painting a picture.
[ 4 ] artists I enjoy
Ed Ruscha
Christopher Wool
Moriko Mori
Richard Prince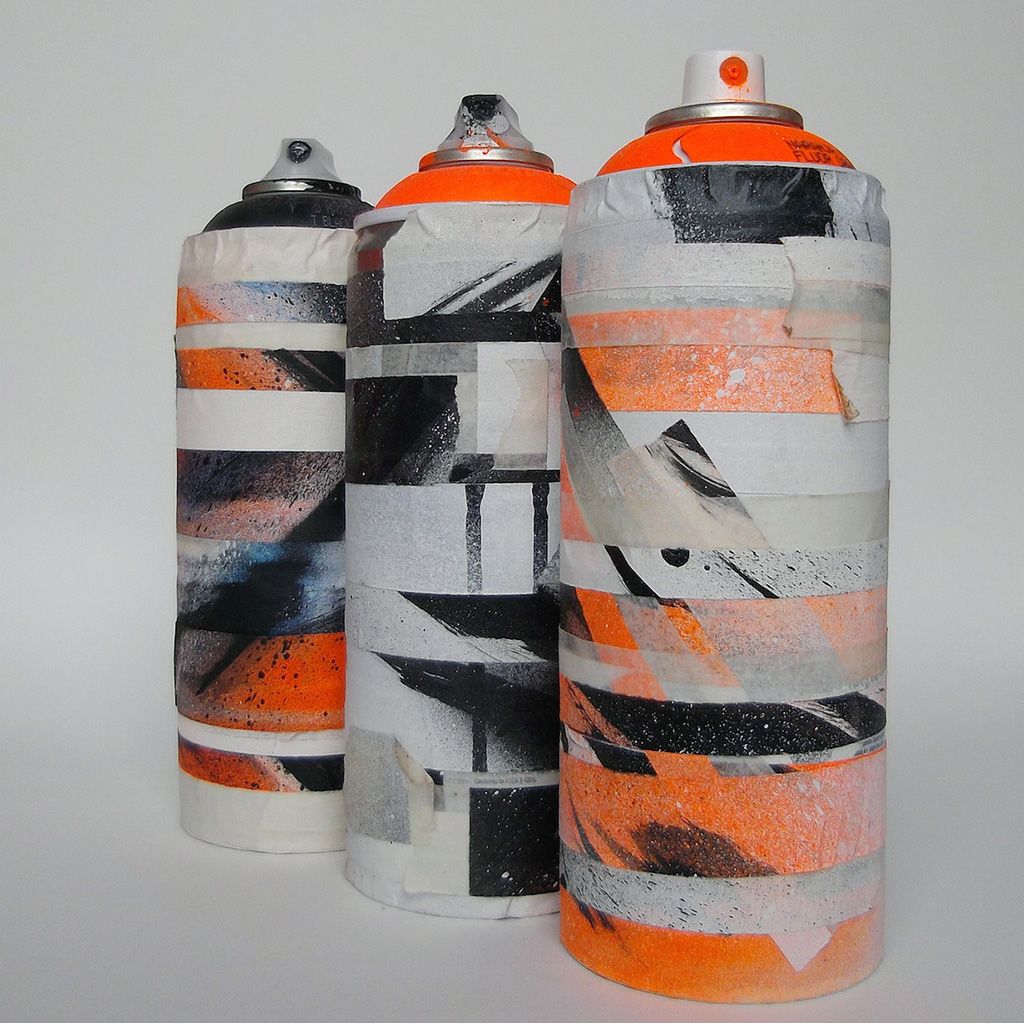 You've been experimenting lately with a lot of different mediums (furnitures, collages, clothes, vinyl records, etc). Do you feel that your art could adapt to any kind of canvas?
Absolutely, I have been fortunate enough to have the opportunity to paint in such a wide variety of formats, some more successful than others. We live in a time now where anything can be art, so it is important to investigate different routes of communication and if just one person responds to a particular piece then you can say that it is a success. I think right now social media is the new art, and creatives who are able to self curate effectively will be the ones who are able to capitalise on those ideas in the future.
[ 4 ] favourite painting installations
A subway tunnel for Underbelly Project in Paris, France
Windows of Sellfridges Department store in London, England
Windows of Hankyu Department store in Osaka, Japan
A rooftop in the Bronx, New York
Do you still get the urge to produce illegal work on the streets these days?
I do currently make illegal works in the street, firstly in a slight reversal of subculture ideals I am trying to paint in a way that doesn't feel like vandalism, they are unsigned decorative flourishes, if it is works people won't even realise its there, or at least feel like it is supposed to be there. Secondly I have been signing accidental assemblage in the street, for example where some roadworks signs are piled together, or where someone has left old furniture in an interesting way, these are then photographed to be presented later a single body of work. Succesful work in the street should engage the curious eye rather than be a selfish cry for attention.
[ 4 ] effective public artists
John Feckner
Space Invader
Richard Hambleton
Nick Walker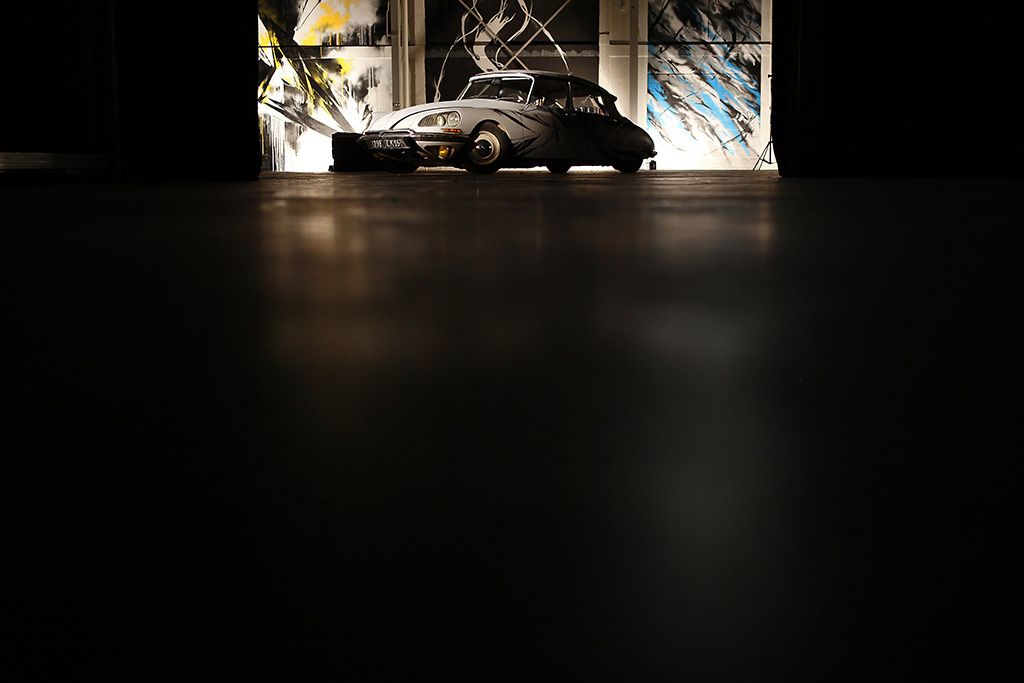 How can you describe the way your work has evolved?
The turning point was in the late nineties when i started to make paintings in black and white, after that it became a new challenge to be able to convey more complex conceptual ideas in such a reduced palette. By considering the same idea over and over again the strokes, lines and application of the mark making actually evolves naturally through repetition of applying spray paint to a surface.
Who are some artists that inspire you?
[ 4 ] contrasting examples
In Literature – William Shakespere & William Gibson
In Cinema – Wong Kar Wei & Woody Allen
In Music – Giacomo Puccini & Theo Parrish
In Fashion – John Galliano & Rei Kawakubo
Do you collect art?
I have some works by friends and people I have met over the years. I can't actually afford to buy the artists I like so I have to enjoy seeing the work in public galleries or museums. I don't really collect anything, I have a few hats.
What else do you enjoy besides art?
The art of travel
The experience of being at the Cinema
Eating at contemporary / experimental restaurants
Being by the sea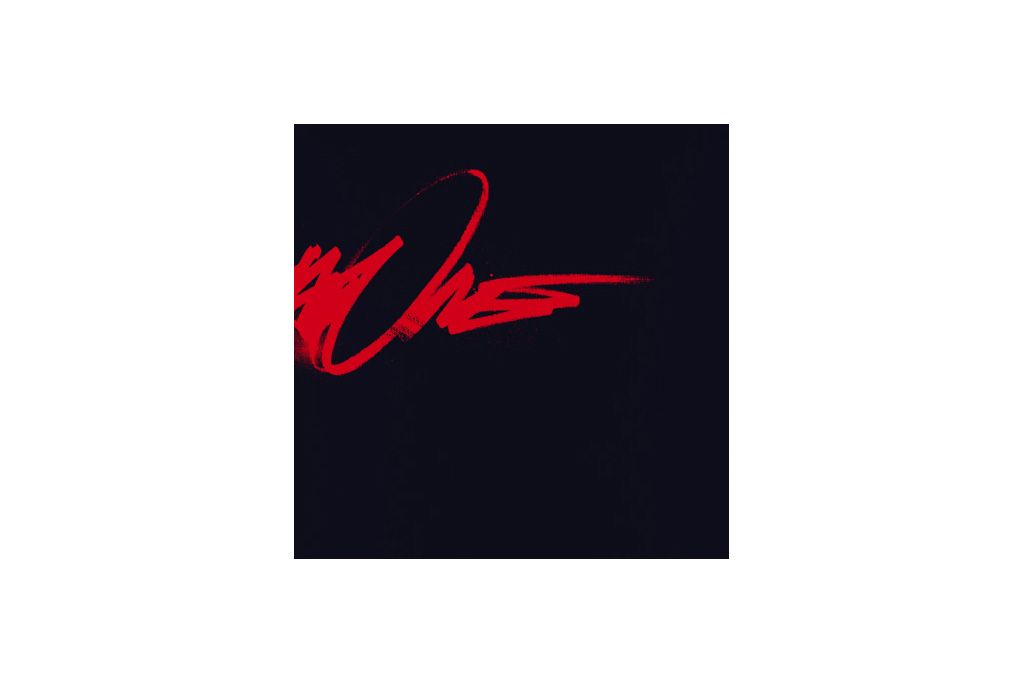 Gamma Proforma is releasing your first book next month. It comes with a 7″ vinyl picture disc, strictly limited to 300 copies. Can you share more information about it?
The book is a non chronological look back through my painting output over the last couple of decades. It is actually really exciting as much of the work will have never been seen as it predates the internet and also is from my personal photography archive. I am looking forward to finally see all the work compiled into a single book, and hopefully there will be a few surprises for people in there.
Pre-order the book HERE.