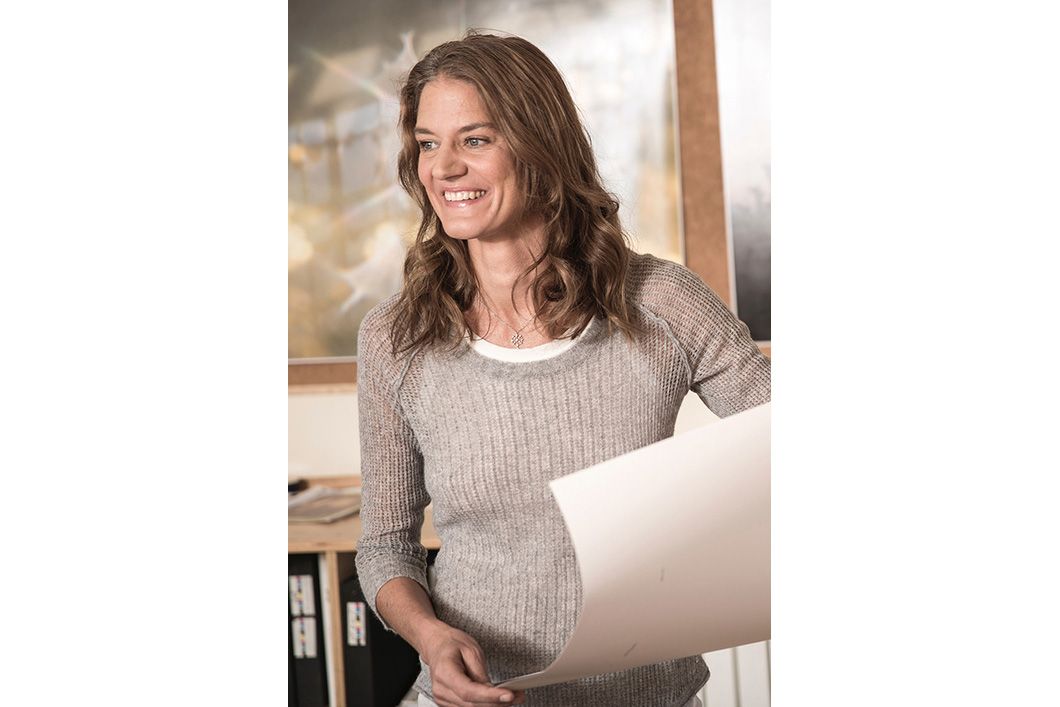 Guillotine s'est récemment entretenu avec la talentueuse photographe brésilienne Mona Kuhn. Internationalement reconnue pour ses portraits créant un dialogue entre le corps humain et son environnement, Kuhn élargit depuis quelques années son champ d'intérêt et projette son regard vers le désert, avec sa flore et sa lumière intense produisant toutes sortes de réflexions et de transparences, la conduisant pour la première fois vers la photographie abstraite. L'artiste revient pour nous sur son parcours, ses inspirations, ses passions, ses récents ouvrages et expositions immersives, ainsi que ses futurs projets. Mona Khun sera présente au Jeu de Paume (1 Place de la Concorde, 75008 Paris) le samedi 10 novembre 2018, pour une séance de dédicaces organisée par Stanley / Barker. La Flowers Gallery (UK) présentera quant à elle des images de cette série durant ParisPhoto (du 7 au 11 novembre 2018).
GUILLOTINE: How did you become interested in photography? How did you know you wanted to work with the medium?
Mona Kuhn: I always loved photography. During high school, I felt in love with the creative process behind the images. I was fascinated with photography because it is a fast medium and I am a bit restless. But what attracted me to the medium is also what scared me about photography, that maybe it is "too fast". I got into nudes as a way to stop time. I thought by working with the body, we could reach a common ground and embrace notions of timeless.

©Mona Kuhn "Bushes 04, 2018" (left), ©Mona Kuhn "Succulents 06, 2018" (right) / Courtesy Flowers Gallery
«This series celebrates the female form and addresses women's rights to express their sexuality in a way that is both playful and provocative.»
Tell us about your new work, Bushes & Succulents, recently published by Stanley / Barker Editions. Can you speak about how this particular project came about and what it means to you?
Not so long ago, women would find recognition in the arts mainly if they worked with botanicals or craft. So earlier this year, I thought I ought to start, sooner than later, my first botanical series titled "Bushes and Succulents". The title has a sensual and alluring wit to a much discussed aspects of current feminism. My response is to continue a conversation that probably started with Courbet's painting "L'Origine du monde". This series celebrates the female form and addresses women's rights to express their sexuality in a way that is both playful and provocative. My own initial intent was strongly intuitive. The plants, in this case succulents, were chosen because of their power of endurance. And the solarized process pushes the images of the bodies to reveal imperfections and brings to the surface women's struggles, their strength, and their power. To me, both the succulents and women have powerful alluring forms related to notion of origin and survival. As a photographer, my female gaze highlights an unfiltered admiration for the female form and the works of other women such as Lee Miller and Georgia O'Keffee. Additionally, I am honored to include a poem by Gwendolyn Brooks, who won a Pulitzer Prize for Poetry. I have great respect for the women who collaborated in this work and the artist women who inspired me to push myself forward.

©Mona Kuhn "AD 6046, 2014" / Courtesy Jackson Fine Art
In your pictures for Private and She Disappeared into Complete Silence series, you said you used the desert as a blank canvas. You also said the later was the most abstract work you've ever done. What do you find so fascinating about the desert and why did you decide to take a new artistic direction?
The desert has always carried similar metaphors across different cultures. It is that kind of place that you enter as a "nobody", and you come back as a "somebody". It is a place where you have a chance, under the starry nights, to learn about and test yourself. In addition, I was drawn to the bare and minimal aspects of the desert, the wide open landscapes, the endless horizon lines and the golden light. "Private" is an introspective series, in which I dealt with notions of mortality involving layers of spirituality. It is called Private because it is meant to be a quiet conversation among friends, maybe even a whisper by yourself. At that time, around 2012, I felt that we had abandoned ourselves and our own basic foundation, and the desert seemed to be the perfect place to start building up again. The new series titled "She Disappeared into Complete Silence" is quite different. It was shot in a modernist structure outside Joshua Tree National Park, a glass house where the golden light enters unobstructed. Conceptually speaking, this glass house with mirrored ceilings was an extension of my own camera and optics. It offered a perfect setting for this new series. Together with a long time friend Jacintha, we experimented with reflections, shadows, illusions, and created images that push the boundaries of representation. I no longer wanted to photograph someone in the nude, but wanted now to escape the body and photograph tangentially, thru the many layers of glass and angles of reflections, the human presence coming in and out of evidence, at times over exposed, at times hidden in shadows, like a desert mirage, a solitary figure who could have been the very first or last to be there.

©Mona Kuhn Portrait 49, 2011 – Chromogenic dye coupler print – 15 x 15 inch, Edition of 8
«My best work starts when people forget they are naked and for a moment escape in their thoughts.»
You spend a lot of time in France, the South West specifically, where you did your beautiful Bordeaux Series. What is your relation with this country?
I never wanted to photograph nudes in a studio. It had been overly done in the 70's and 80's. My intention from the start was to build a legitimate relationship with the people I photograph. I like to think our friendships are stronger than the photographic bond. The photos we take are in essence a thin sliver of our relationships. That being said, I knew I had to find a place where people are comfortable in the nude. In the early 90's, I was introduced by a friend to a place in France where I immediately felt at home. The portraits included in "Bordeaux Series" are one of my most honest and humble attempts to photograph my extended family, and capture the magic of this community that grew slowly over time. I photographed them in a traditional portraiture style, like a small town photographer. The same room and the same chair, with open shadows, facing north. And when nobody would show up, I would then take my bike and ride around, capturing the mysterious and romantic French landscape. The images where edited taking into consideration a split second the sitter might have forgotten I was actually there. My best work starts when people forget they are naked and for a moment escape in their thoughts.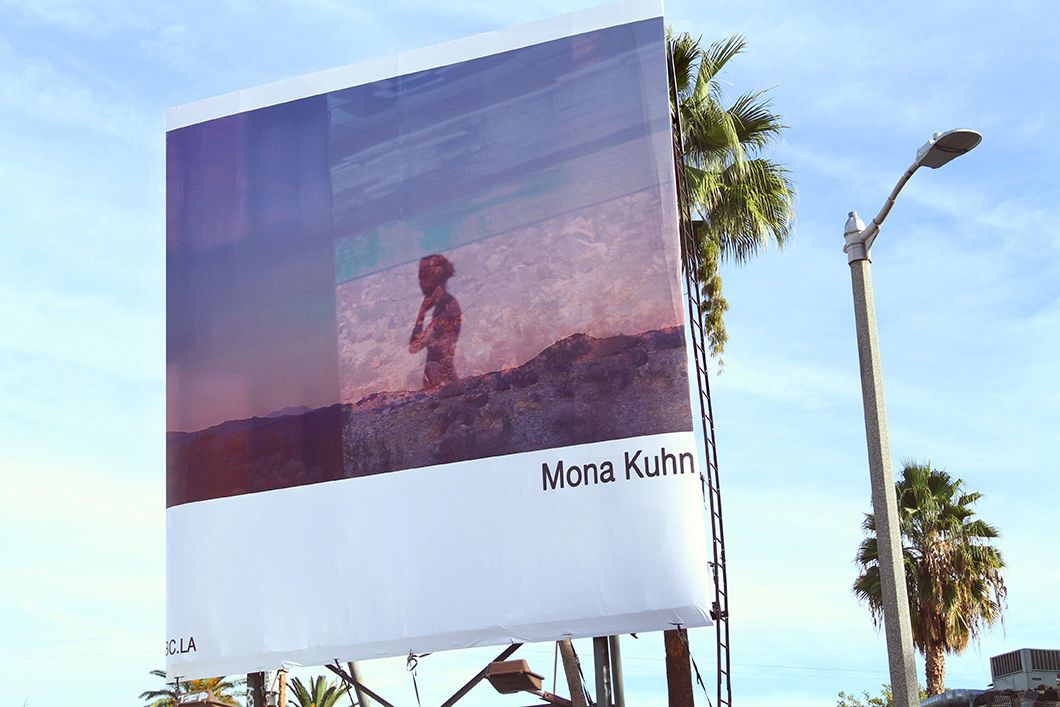 Can you tell us more about your recent curation of the Billboard project in Los Angeles? Will we see more of that in the future?
I moved to LA in 2005 and almost immediately got involved with the LA art scene. In the last 10 years, Los Angeles has welcomed a huge amount of artists moving away from centers like NY, Miami and San Francisco. What started in the 60's and 70's with experimental light artists like James Turrell and Larry Bell, who still had to prove their experimental ways in the mainstream art market, has turned now into a vibrant and growing community of artists pushing their mediums forward. LA seems to breed an innovative and un-attached kind of creative thinking. When Adam Santelli, founder of The Billboard Creative, invited me to curate an exhibition where work of arts would be placed on billboards, I jumped at that opportunity. I have always been interested in the creative process and seeing other artists' works. Curating the last 3 billboard exhibitions with more than 40 billboards around the city gave me a great opportunity to go deeper into the LA art scene and gave me a wonderful chance to bring attention to excellent works.

DIOR – Cruise Collection
Tell us more about your commercial work and how you balance the professional part with your artistic work.
The commercial and the fine art works come from a different kind of creative energy. During a commercial project, my intention is to contribute visually to the client's own concepts and demands. Beautiful collaborations have come out from this kind of creative energy, like the campaigns I had the pleasure to work on for Dior and Bottega Veneta. The client usually chooses incredible locations and we work with a great team to reach a commercial level of perfection. My personal works comes from a completely different space. I like silence and enjoy working alone, allowing myself to be guided by intuition. In my personal works, I am solving my own problems quietly. Early on, while creating my personal works quietly, I could not have imagined that it would inspire international art directors to hire me. I am grateful for that.
You have a new book releasing soon, published by Steidl, She Disappeared into Complete Silence. What does the title mean to you and could you tell us more about the book?
I am actually glad to announce that on Nov 9 I will be at Paris Photo signing the very first batch of books to arrive in the market, released by Steidl. This is our most experimental book ever. We both experimented on press and later brought those elements to my first fully immersive installation at The Fruit, a 5,000 square feet performance and arts space in Durham, North Carolina. The text accompanying the book was written by Salvador Nadales, Curator of Painting and Drawings after 1940's at the Museo Reina Sofia in Madrid. The title "She Disappeared into Complete Silence" was carefully chosen and has multiple meanings and references. The word "she" refers not just to "the woman" present in the works, but also the open desert "horizon lines" running into infinity, and the "lines of thought". For example, the bare essence of thought could be distilled visually into a single line, a start of a word or drawing, transferred to paper by the hand. This experimental series is a balance between the human presence and scale, the endless desert landscape and the geometrical lines of a structure built up from thoughts. In addition, the Museo Reina Sofia is home for Louise Bourgeois first book titled "He Disappeared into Complete Silence". In a twisted way, the title is a tangential homage to Louise's works. In his text, Salvador does not attempt to bring our works together, but rather celebrates what sets our works apart. It is a wonderfully written text, and the most experimental book I ever worked with Steidl.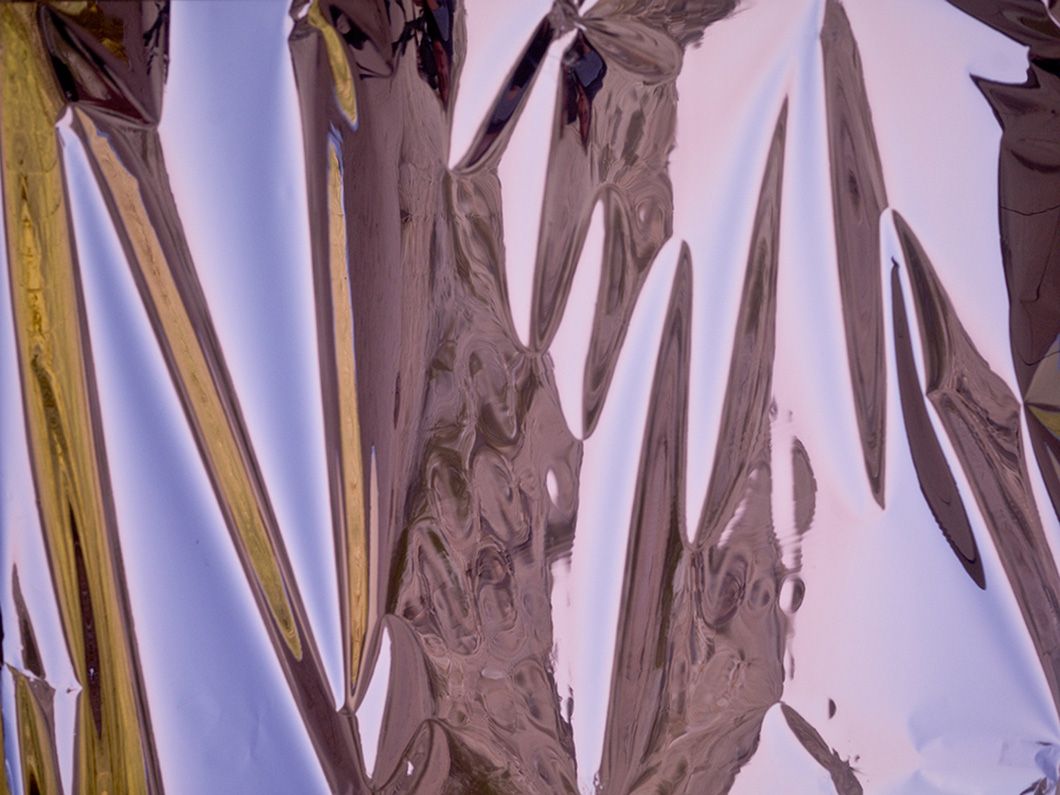 ©Mona Kuhn "AD 8023, 2014" / Courtesy Jackson Fine Art
Immersive Installation by Mona Kuhn at The Fruit, an experimental performance and arts space in Durham. 5,000 sq feet multimedia exhibition with 8 large 10 feet stills and 10 projectors. Spatial sound design by composer Boris Salchow. / Courtesy: the artist
«The exhibition invites people to escape their bodies and minds and enter the realm of unconscious.»
Your latest exhibition, Experimental, for the Click Photography Festival, was very immersive and required visitors to enter one by one. Can you tell us more?
"Mona Kuhn: Experimental" is my first fully immersive exhibition where i had the chance to escape the framed format and push the boundaries of photography. My intention is to have visitors literally enter my work and find themselves as "the body" inside the work. It can be thought as a performance, in which the visitor is the main character. The exhibition invites people to escape their bodies and minds and enter the realm of unconscious. For that we worked with large scale stills, 10ft tall, and multimedia video projections. In addition, I collaborated with composer Boris Salchow to create spatial sound designs for each individual gallery space, which could also work as a combined whole. My hopes is to bring this experience to more art and educational venues. I would love to share this immersive experience with a wider audience.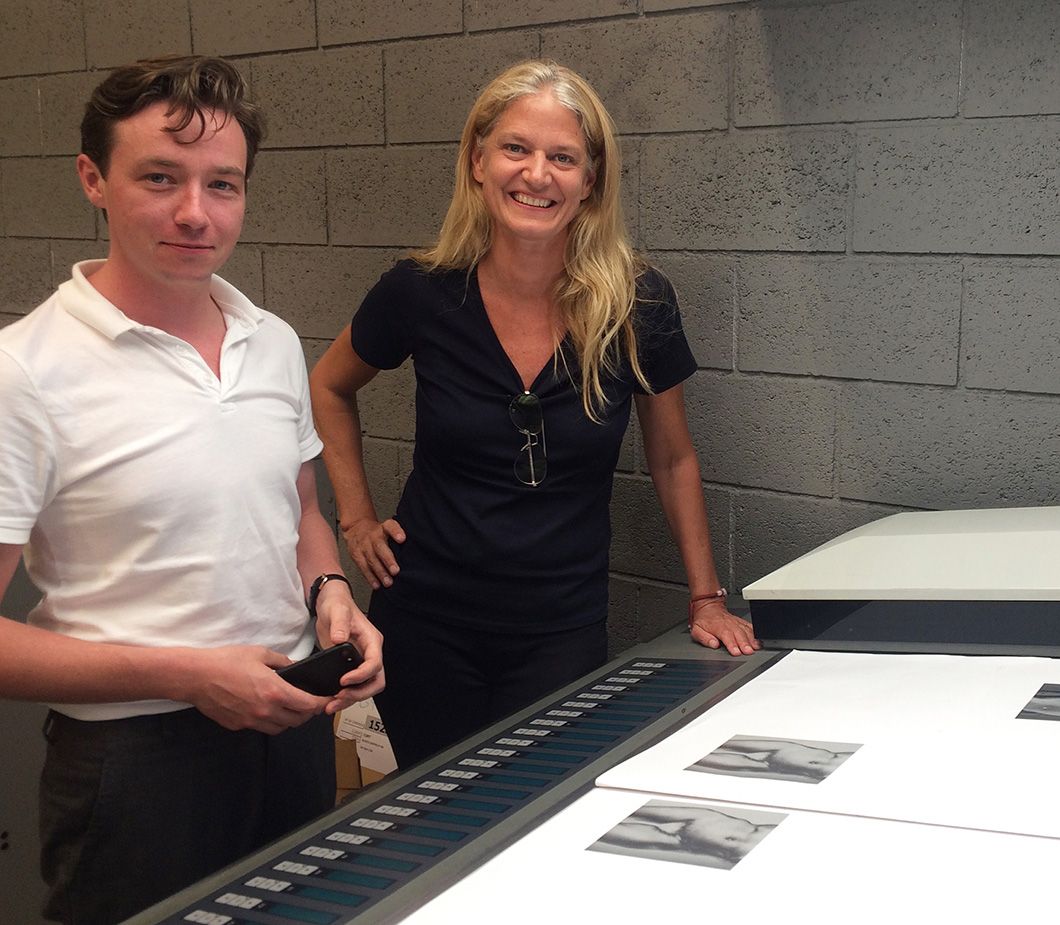 Gregory Barker (Stanley / Barker) and Mona Kuhn at the printing press in Barcelona for Bushes & Succulents
What do you think the next chapter in your art will be? Have you been thinking about how your work will evolve? What are your future projects?
Since this last immersive exhibition, all I can think about is to bring that immersive element into all my future works and exhibitions. I am right now in the midst of reaching out to institutions and started my work towards funding the next project. Thank you so much for bringing my work to the attention of your community, much appreciated!